Bartanya Simone- This page is designated for the Doctorate at Space; 'Bartanya Simone'. Its intent is to provide information into the biographical background and properspective of the character and their continued contributions of science unto the SuperWikia collective.

Doctorate at Space: Bartanya Simone is a Shorty.
Biogenesis:Edit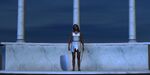 Bartanya Simone
; an ancient of the
Tweep Republic Order
who taught the
Eurostines
. Bartanya protected the
Edenude
at
Sisstacius
during the ancient
Battles of Publiss
from the
Europhines
. She was later installed as
Senator Simone
over several solarstate properties. (see;
SuperWikia Senator: Bartanya Simone
). She was a great warrior and soldier who served as a protector guard for all of the Sudanary preistess and eventually became the ambassador prime minister for the solarstate. During the Publiss Wars, she wrote the '
Eathis Verses'
, a collection of
samariahs
from all of the priestesses of the Sudanary.
Research & Significance:Edit
Advances & Other ContributionsEdit
Character Name


Bartanya Simone
Statistics
Base Title:
Bartanya Simone
Sex / Gender:
Female
Ethinicity / Race:
Latin American Procession / South Amercian/Mediterrainean Procession
Lead Order / Party:
Pamazon Ascendant Magistrats-Proxeum / Republic
Physique / Health:
Latin-Centurian Theologic; / Rio-Centurian Soldier; EXO
Active Level:
N/A
Tentative Status:
(Un-Available)
Setting / Location:
Tweep Republic
;
Ad blocker interference detected!
Wikia is a free-to-use site that makes money from advertising. We have a modified experience for viewers using ad blockers

Wikia is not accessible if you've made further modifications. Remove the custom ad blocker rule(s) and the page will load as expected.