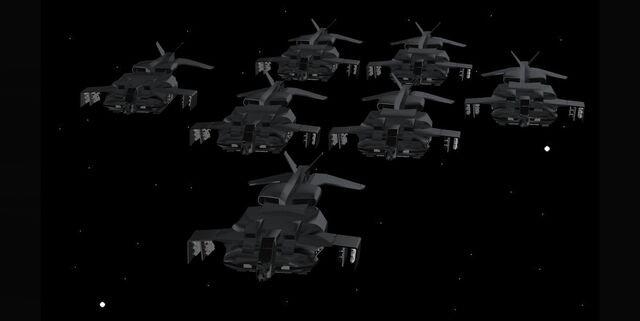 This is an image of a multi passenger piloted SIS 'Strategent Bomber' sub-fleet vessel.

.
The Stratagent Bomber is a very effective and fully equipped craft for deadlock and open space battles and escort missions. It has life support and a primary, secondary and heavy teritary armament which is very effective against opposition frigates and other larger craft. Its shielding is battle grade and a 'space to terrain & atmosphere propulsion' lift engine system for vertical takeoff and landing. lower orbit and atmospheric regions. The Bomber class; along with the Recon Class, is one of the most effective crafts in the Protectorate Sub-Fleet; often used by the SIS astronautic and Black Space Defense Forces system to establish advantageous positioning during tourneys.
Additional Material
Edit
The manufactures of the Bomber class generally are under procurement with the SIS to produce only electronic components and the on-board lineage systems. Assembly line work is typically reserved for Laborforce grade facilities and factories.
'see also:'
Licensing:
Edit
This file is copyrighted. The copyright holder grants conditional (hosted) usage of this file provided such usage is only on this site. Copyright holder(s) must be properly attributed.
Appears on these pages

of
This page is designated for the SuperWikia Vessel Phototage Catalogue of ship and other...

Subject This is an image of a multi passenger piloted SIS 'Strategent Bomber' sub-fleet vessel...
File history
Click on a date/time to view the file as it appeared at that time.
Ad blocker interference detected!
Wikia is a free-to-use site that makes money from advertising. We have a modified experience for viewers using ad blockers

Wikia is not accessible if you've made further modifications. Remove the custom ad blocker rule(s) and the page will load as expected.