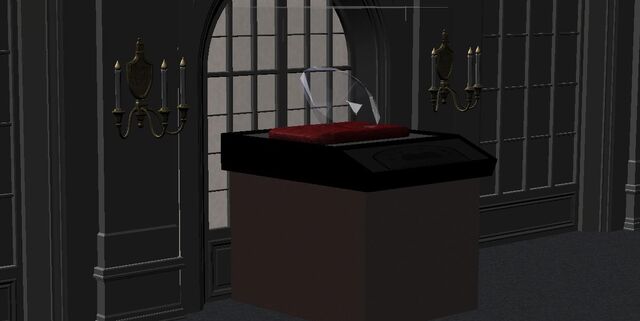 The Sy Labora Berthstone

Sy Labor Berthstone
Vital statistics
Solveig Exhibit Hall
Senator's Mansion
Stone Data
Active Berthstone for Government
Technical Background
Found in the quarries of Sy Labora
Affinities
Displayed in the Senator Mansion's Solveig Exhibit Hall
Philanthropic Custodianship
The SuperWikia Philanthropic Archives Museum
Legal Citations & Suppliments
Seen also in the SuperWikia Planetarium Landmarks & Records
Editorials
N/A
Storyboard Script
Work In Progress
The Sy Labora 'Berthstone'. Crested in the Senator's Mansion, this jewel is exemplar of the Administration, as it represents the berthstone of the planet Sy Labora before the SuperWikia Senate Chambers.
Rear Text-
Edit
| | |
| --- | --- |
| Basis of Work | This image is a SuperWikia 'Philanthropic Archives Museum' image. Its purpose is to provide a visual ancilliary aid to members and general users. It may periodically be used in assisting delivery of Runtime information pertaining to SIS Senatorial Memoirs, Tribunal News Reporting, Archival Interest, Philanthropic Reports, Leisure Lab Reports and SuperWikia Tourney Processing. (The SuperWikia Philanthropic Archives Museum). |
| References | The image is part of the SuperWikia Philanthropic Archives Museum. It functions under the SuperWikia 'Standing Structures; Solveig & Landmark Mansions' provision for SuperWikia Tribunal News exhibits for amplitudinal and aptitudinal comparison research on SuperWikia 'SIS Settlement Territorial Agreement Provision' study. |
| Articles | This image is to be used by SuperWikia User Groups, Proxeums & Guilds. It is not licensed for Non-SuperWikia usage. |
| Non-SuperWikia | This file is also on http://www.Superwikia.com. |
| Definitives | This image is used in generating SuperWikia Logic, SuperWikia Supermodel Logic, SuperWikia Proxeum Logic, SuperWikia Administrative Logic, SuperWikia Consumer Logic, SuperWikia Exhibit Logic and SuperWikia User Knowledge. |
| Omitted Parts | Variations and Different Versions are available via SuperWikia Management. |
| Non-Wiki | This file is not for public use. |
Licensing
Edit
This file is copyrighted. The copyright holder grants conditional (hosted) usage of this file provided such usage is only on this site. Copyright holder(s) must be properly attributed.
Appears on these pages

of
This page is designated for the SuperWikia 'Library Manager' application, a check system program...

Summary The Sy Labora 'Berthstone'. Crested in the Senator's Mansion, this jewel is exemplar of...
File history
Click on a date/time to view the file as it appeared at that time.
Ad blocker interference detected!
Wikia is a free-to-use site that makes money from advertising. We have a modified experience for viewers using ad blockers

Wikia is not accessible if you've made further modifications. Remove the custom ad blocker rule(s) and the page will load as expected.